Leech Beam

"
Give me that.
- Hammer Tank, gunning the leech beam on its target
"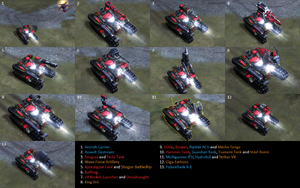 The TS1 Tsarsky Leech Beam is a support device carried by Soviet Hammer tanks. It was an offshoot of the Magnetic Beam used on the Apocalypse Tank.
The beam removed material from a target vehicle which could be used to repair the tank's armor. The tank might also gain weapon systems from the target. The leech beam and the tank's weapons could not be used simultaneously. Also, the beam could not be targeted at aircraft.
The beam may only "steal" weapons which may attack ground or air targets. For example, the beam may target a Naginata Cruiser, but it may not take the cruisers torpedoes since these may only target naval units.
It is possible for the Hammer to gain anti-aircraft weapons, or more powerful anti-vehicle or anti-infantry weapons. Only one weapon may be stolen per tank, and once stolen may not be replaced.