Mechanized Walkers (Red Alert)
"Sir, the blueprints are missing!"
This vehicle related article is a stub; you can help the EVA database by expanding it.
During the Third World War, USSR developed the Terror Drone. These small, fast, robotic units spider-like can burrows inside and slowly tear Allied vehicles apart before they ever entered into combat, allow Red Army weaken Allied armor forces before their own vehicles ever arrive, giving their stronger and more heavily designed tanks the edge. Terror Drones aslo are on the cutting edge of the worlds robotic technology, being even more advanced then their Allied counterpart, the Robot Tank, due to their individual, self sufficient AI systems and complex motion controls.
During the War of the Three Powers, the Soviets further deployed walkers in the following forms:
During the Uprising, Soviets developed Desolators, who use Powered toxin suit base on the armor of Tesla trooper as well a the old prototypes of Sickles, the Reapers.
See also Empire of the Rising Sun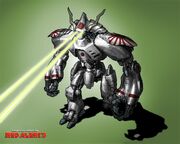 The Empire of the Rising Sun is obsessed with technology, robots in particular. During World War III the Empire mass-produced robotic or semi-robotic walkers for use on the battlefield. Often, they have the ability to transform into another unit type.