Welcome to the Command & Conquer Wiki!
Log in
and join the community.
As part of the Unified Community Platform project, your wiki will be migrated to the new platform in the next few weeks. Read more here.
Tiberian Twilight motion comic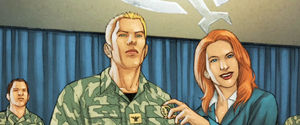 The Tiberian Twilight Motion Comic is a four-part tie-in story set in the Command & Conquer Tiberium universe, which serves as a prequel to Command & Conquer 4: Tiberian Twilight. The main character is Christian Pierce, a farmer-turned-soldier in the employ of GDI.