Welcome to the Command & Conquer Wiki!
Log in
and join the community.
As part of the Unified Community Platform project, your wiki will be migrated to the new platform in the next few weeks. Read more here.
Pierce's truck
Chevrolet Task Force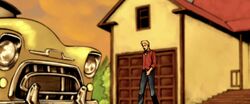 Pierce walks towards his truck
Pierce's truck is a Chevrolet Task Force that somehow survived until 2064.
The original Task Force pickup trucks were produced from 1955 to 1959. It is unknown how Pierce got his truck, but it's possible that the automotive industry had a period of retro design, where they produced updated versions of old classics.