Rivals pre-alpha patch 13 August 2018
| | |
| --- | --- |
| | This article is written from a real world point of view. |
The 13 August 2018 patch for Command & Conquer: Rivals was the game's ninth official patch[1][2]. It introduced several social features and two new units - the Juggernaut and the Giga-cannon.
Go beyond your alliance and add people to your Friends List through Facebook, Origin or directly in-game. You'll be able to see friends' progress and shared match replays via C&C Network. (More on that below.) And no, you can't directly battle friends yet, but this is just the beginning of what we hope to do with your Friends List in Rivals; expect more to come in future updates.
C&C Network is the pulse of your Rivals gameplay experience. Consisting of an Activity Feed and C&C TV, this new feature set will keep you connected to your friends, your alliance members and the Rivals Community as a whole.
When you have amazing moments and accomplishments in Rivals, we want you to be able to share them with anyone. From a crazy, hard-fought victory to unlocking new units to finally reaching the next Sector, we all enjoy sharing our accomplishments with friends. With your new Activity Feed, you can keep up to date on your friends and alliance members while sharing your own milestones. Plus, show your appreciation for friends' hard work by liking the posts that you enjoy most!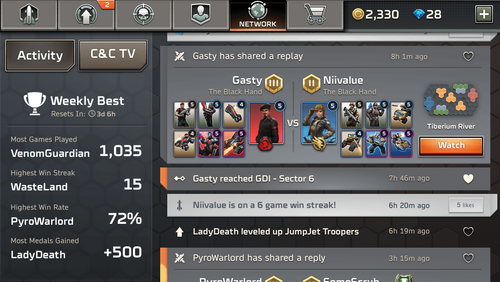 Your Activity Feed includes:
Reaching a new sector
Unlocking a new unit
Achieving a win streak
Your weekly Medal gains
Leveling up a unit to Level 6 or above
Leveling up your Player Level
Manually shared replays
Leaving or joining an alliance
Weekly Best
Want to know who is on fire with the highest win rate or the most medals earned each week? Your Activity Feed will track the Weekly Bests specifically for you, your friends and your alliance members — displaying Most Games Played, Longest Win Streak, Highest Win Rate (min. 5 games played) and Most Medals Earned. "Weekly Bests" updates in real-time, so you can see your progress as soon as a match ends, and everything resets to zero at the end of the week, giving everyone a fresh chance to have their name and accomplishment featured.
Sometimes, we all feel "stuck" — unsure of how to make sector progress or end a rough streak. C&C TV is a new resource where you can watch full match replays from players at your skill level and replays from the very best players in all of Rivals. Watch replays from players atop the Medals leaderboard to find new decks to play, learn new strategies and incorporate new match tactics. All it takes is introducing one new idea, tactic or unit into your own play for everything to shift for the better.
And when things are going well, watch C&C TV just for fun for some of the most entertaining and competitive Rivals matches out there. Filter by sector to find exactly the kinds of games you're looking for — whether that's top-tier play with prime meta decks or ways to counter army buildouts more common at your sector level.
With the new Friends List and C&C Network, it just got a lot easier to find engaging content and share your achievements with friends. And if you haven't read about the new Nod and GDI units yet, check 'em out now!