Stealth suit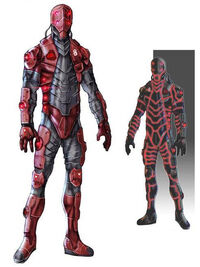 The Ezekiel's Cape[1] stealth suit is a marvel of Brotherhood's optical camouflage.
By scaling down and redesigning the Lazarus shield generator of the stealth tanks, Nod scientists were able to create a powerful suit of armor powered by an internal reactor that was capable of rendering the wearer almost completely invisible in broad daylight by refracting light. The armor is equipped with a special four-visor helmet designed to not interfere with the stealth bubble generated and the vision not corrupted by it.
This suit was only worn by specially trained stealth soldiers in Renegade.
↑

The armour's name is mentioned within Renegade's files, in always.dat, file 01-i036e.wav